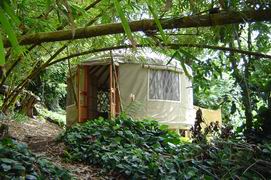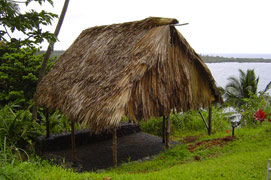 Massages, body treatments and facials are performed in our cozy spa yurt and traditional Hawaiian Hale overlooking Hana Bay.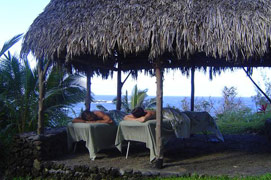 Massages
30 min $55        60 min $100    90 min $140    120 min $200
Lomilomi
Traditional Hawaiian massage, integrating body, mind, emotions and spirit through long, flowing, rhythmic strokes which work through the muscles to connect down to the iwi (bones).
Swedish
A soothing and relaxing treatment using European techniques of stroking, kneading, percussion and friction.
Craniosacral
A deeply relaxing, subtle and very gentle treatment of imbalances in the delicate rhythms of the craniosacral system, including the cranial bones, sacrum and membranes that surround and protect the brain and spinal cord.
Prenatal
A special blend of essential oils is applied in a gentle, nurturing massage addressing the specific needs of expectant mothers. Essential oils are not used during the first trimester.
Reflexology
A massage for feet and hands, applying pressure to reflex points which stimulate corresponding organs and areas of the body.
---
Specialty Massages
60 min  $120    90 min  $160    120 min $220
Lomi Luana
Our signature massage, a soothing lomilomi treatment incorporating hot stones and using exotic essential oils blended into our unique Rainforest Massage and Body Oil.
Deep/Sports
Myofascial and stretching techniques are applied in a full body and/or spot treatment, to release deep chronic tension and restore flexibility to the muscles and connective tissue.  A therapeutic sports blend oil provides additional benefit.
Aromatherapy
A relaxing massage using a personally selected blend of aromatic essential oils which directly affect one's physical, mental and emotional state.
Shiatsu
Japanese style thumb pressure
---
Additional Services
(add on to a Massage or Body Treatment)
Facial Masque    15 min  $20
Facial cleansing with hot towels, massage and application of an appropriate masque for your skin type, completed with a nourishing moisturizer.
Foot Treatment    15 min  $20
First wrapped in hot towels, the feet are then exfoliated with an invigorating scrub, followed by a moisturizing lotion massage.
Scalp Treatment    15 min  $20
A scalp massage applying custom blended essential oils in a base of pure jojoba, with a hot towel wrap to enhance absorption of oils.
Aroma Touch   30 min  $50
DoTerra certified pure therapeutic essential oils are applied to the spine, producing a profound whole body wellness experience.  Benefits include stress management, immune support and autonomic balance.
Packages
30 min Papaya Pineapple Scrub and 60 min Massage.
60 min Massage and 60 min Facial.
60 min Scrub or Wrap and 60 min Massage
---
Advanced notice advised to ensure availability.
24 hour cancellation notice to avoid charge.
All major credit cards accepted.
Open daily from 9am – 6pm.
---